To reduce the cost of spares in an Extrusion Plant it is advisable to install a Bean Cleaner which will remove sand and other impurities from the product to reduce wear on the machine parts as well as producing a cleaner, better quality product.
 • Widely used in soya, corn, wheat, rice and other grain and general  
     food processing.
• Remove the husk, whisker, stem, leaf, dust and other light impurities.
• Remove large and small impurities in materials;
• The materials are sorted into large, medium and small particles.
The product is fed into the intake chute which contains the magnet tray all the steel particles that may be present are captured by the magnet tray. The product is then dropped into the inner screen which is placed at an angle. The size of the hole in the inner is just bigger than the product being fed into the cleaner.  As the inner turns at the required RPM the product falls through the inner screen into the outer screen.  All remaining impurities and larger product will work their way down into the waste chute. The product falls into the outer screen with a 3mm Hole.  The rotation and friction of the screen will cause all remaining sand to fall through into the sand chutes below.
• Intake chute with magnet tray to remove stray metallic objects often collected in the harvesting process.
• Sand Chutes for the removal of sand and other fine impurities.
• Waste Chute for the removal of larger foreign bodies such as 
   stones.
• Replaceable Inner Screens (Size of holes will depend on the 
   application for which it is required.
• Hooded canopies allowing for 3 points of access through the 
   process.
• Adjustable legs to allow for changing of the angle of the machine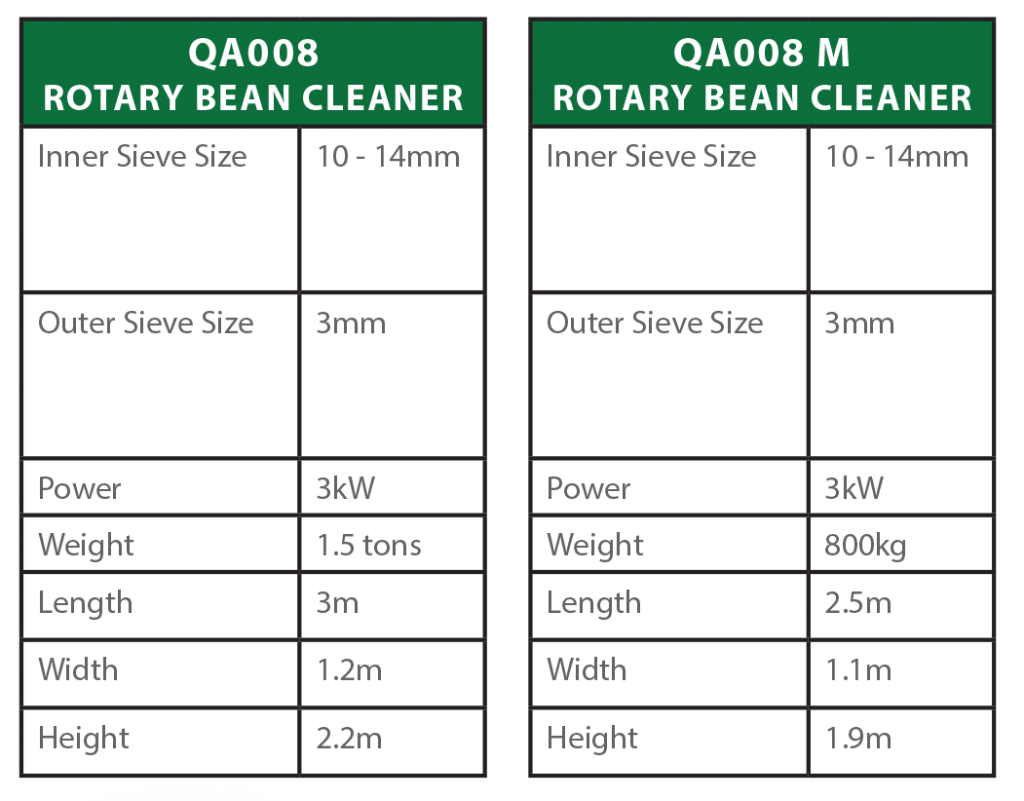 Want to find out which product 
will best suit your needs?
Do you have a support
query about your equipment?
Lots of common questions
answered about our equipment
Quadro Alloys Trading Enterprises
+27 11 363-3166
info@quadroalloys.co.za
160 Wright Road, Nuffield, Springs, 1559,
South Africa
© Copyright – Quadro Alloys | DESIGNERS AND MANUFACTURERS OF : • EXTRUDERS • HAMMER MILLS • FEED PLANTS • & related spares and accessories