QA6000 FISH / PET FOOD SLAT DRYER  
General operation of the Dryer
A cyclone unit is mounted on top of the Spreader Conveyor with a Rotary Valve which controls the flow of the feed moving into the dryer. A 1.2m Stainless Steel Rotary Valve on top of the Dryer ensures an even flow of pellets across the perforated steel slats that are driven by Hollow-Point Chain which is VSD controlled. The Dryer is a 4-Pass system running with two 10-core Heat Exchangers and driven by steam.
Two high velocity aluminium fans are concealed in canopies within the unit. Galvanised ducting ensures clean air flow is always available to the heat exchangers. A Cleaner Auger under the Dryer Compartment removes all the fines. Finally a Rotary Valve will move the dried feed via a Blower to 5.5kW Cooling and Bag-off Bins.
Cooling units manufactured to the same quality standards as the Dryer are available to be mounted in-line with the dryer.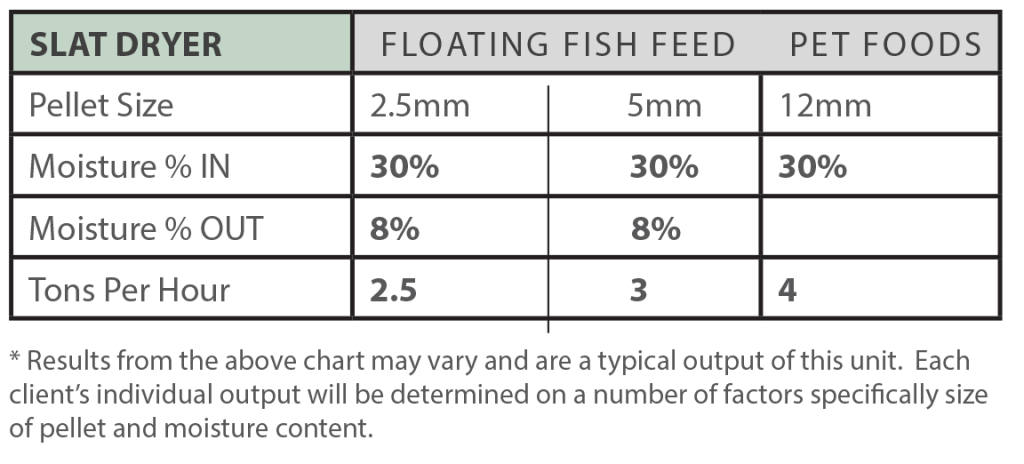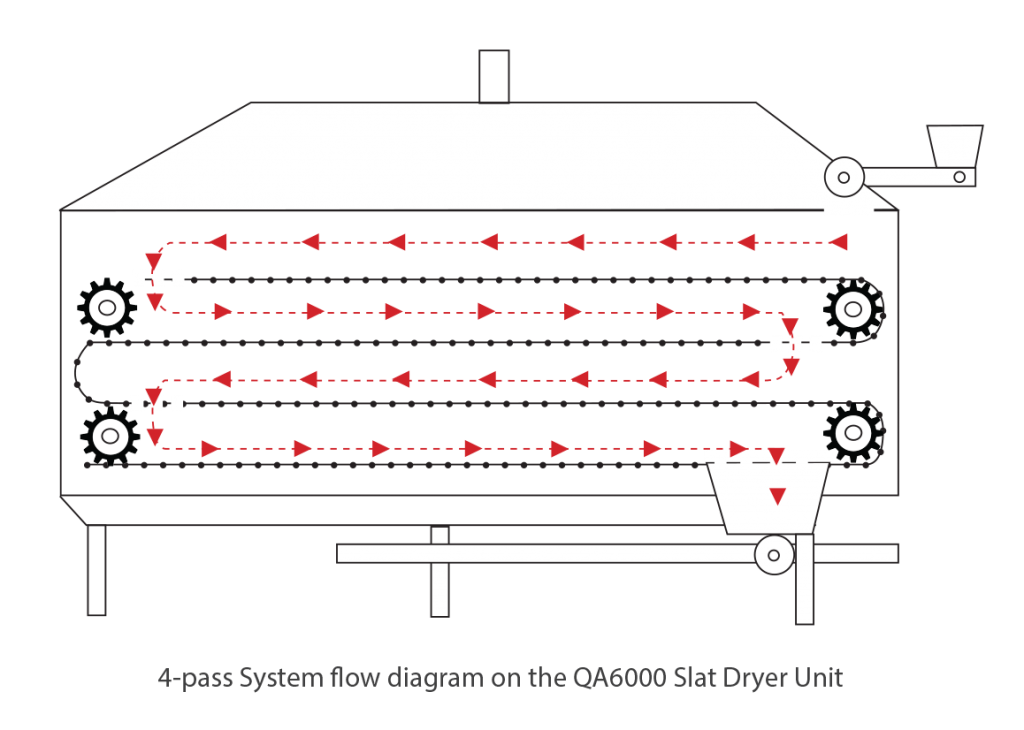 • Materials:
Standard Dryer Frame construction: heavy duty structural steel for longevity.
Material options include: All Stainless Steel (Grade 304) Mild Steel (with 304 stainless in product contact zones.
Mild Steel (with Grade 304 in high corrosion areas)
• 4-Pass system ensures maximum drying
• Sanitary operation with the Cleaning Auger to remove fines
• Insulated Stainless Steel doors provide complete access to heat chambers for maintenance
• Aluminium fans can be easy removed
• Stainless steel slats are easily replaceable
• All bearings are mounted externally for sanitation and maintenance
Want to find out which product 
will best suit your needs?
Do you have a support
query about your equipment?
Lots of common questions
answered about our equipment
Quadro Alloys Trading Enterprises
+27 11 363-3166
info@quadroalloys.co.za
160 Wright Road, Nuffield, Springs, 1559,
South Africa
© Copyright – Quadro Alloys | DESIGNERS AND MANUFACTURERS OF : • EXTRUDERS • HAMMER MILLS • FEED PLANTS • & related spares and accessories